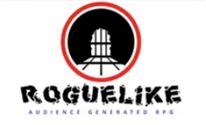 RogueLike is a chat-generated RPG. It is a game hosted by the fictitious company of Dungeon Inc., which is attempting to create the "perfect" RPG scenario. The series premiered on HyperRPG in January 2018. The show was mainly GMed by Zac Eubank, before being replaced on a permanent basis by Kelly Nugent.
RogueLike is conducted with participation from the chatroom. Prior to each show, the RogueLike database  is open for audience submissions of genres, settings, characters, strengths, weaknesses, and hidden agendas.
The goal for each simulation is to complete one's hidden agenda without being called out on it by another player.
The rules for the show have varied over the show's run; prior to episode 19, simulations would end upon the completion of a player's hidden agenda.
In episode 19, Head Analyst Kelly from Corporate (Kelly Nugent) implemented new rules wherein a simulation would continue for a set time-limit (approximately one hour), and a hidden agenda completed will award the player ten points. Each participant will have three lives each, and each life is worth five additional points at the end of the simulation.
Along with the new game rules awarding overall victories based on points, in episode 23, the RogueLike Championship Belt was introduced. This belt would be awarded to the winner of a night's simulations, with the winner returning the following week to defend it (and vacating it if they should be unable to return).
In accordance with HyperRPG's mission of interactivity, viewers may influence the results of the game through an incentive-based donation system. The incentives have varied throughout the show's run.
Currently, viewer donations have the ability to compel a character to explain why they have a particular weakness, to assign them an addition fear, to force a player to take their medication (and receive a side-effect), to switch the genre of the simulation, or to generate a side-quest for the players.
Episode
Head Analyst
Participants
Winner
Notes
1
Episode not found.
2
Ryan Schalpas

Danielle Radford
Emma Fyffe
Chris Bramante
Matt Acevedo

Emma Fyffe*
Emma, Danielle, and Chris each completed one hidden agenda.

Emma was declared the winner via the scores Ryan assigned for the degree of success with which each agenda was completed.

Simulations lasted for one hour each, and the winner was determined at the end.

3
Zac Eubank

Malika Lim
Jonny Cruz
Stella Chuu
Cameron Rice/Ify Nwadiwe

Jonny Cruz & Stella Chuu
This episode featured the debut of Dungeon Inc. and live music by Branson.

Jonny and Stella each won a simulation.

Two simulations ran for an hour each, and the winners were determined via vote from the chat.

Ify replaced Cameron halfway through the second simulation.

Starting this episode, new subscribers during the show would have their names integrated into the story.

4
Zac Eubank

Cameron Rice
Danielle Radford
Dani Fernandez
Lucas Eubank

Lucas Eubank & Cameron Rice
Beginning this episode, simulations ended at the completion of a hidden agenda.

Lucas and Cameron each won one of the night's simulations.

5
Zac Eubank

Stella Chuu
Jonny Cruz
Kate Elliott
Cameron Rice

6
Zac Eubank
7
Zac Eubank
8
Cameron Rice
9
Bert Jennings
10
Zac Eubank
11
Zac Eubank

Stella Chuu
Andy Campbell
Janel SantaCruz
Ify Nwadiwe

Ify Nwadiwe*
DJ Hamburgers substituted for Branson this week.

Ify and Stella initially tied for simulation wins. The winner was decided via a rap battle, where the audience vote named Ify the winner.

12
Cameron Rice
13
Zac Eubank
14
Zac Eubank
15
Matt Acevedo
16
Zac Eubank/Kelly Nugent

Stella Chuu
Omar Najam
Jacob Kraner
Kelly Nugent/Zac Eubank

Zac was "fired" halfway through the episode. Kelly from Corporate immediately took over as Head Analyst, and Zac became a participant.

This episode features the debut of Kelly from Corporate as Head Analyst.

17
Kelly Nugent

Minhdzuy Khorami
Omar Najam
Alex Walters
Cameron Rice

Omar Najam
Omar won two of the night's four simulations.

This episode featured the debut of Beth/Dead Beth.

18
Kelly Nugent

Cameron Rice
Jessica Verdi
Mike Ginn
Emma Fyffe

Jessica Verdi*
*Jessica won one simulation worth five points to be declared the winner.

Jessica won three of the night's six simulations, though two of her simulation wins were negated via #HeadAnalyst donation incentives.

This was the last episode to feature the #Fear, #Malfunction, and #HeadAnalyst donation incentives.

This was the episode in which Branson was "adopted" by Kelly.

New RogueLike Rules Debuted - Win System Changed
19
Kelly Nugent

Cheyenne Ewulu
Chris Bramante
Christian Spicer
Bert Jennings

Christian Spicer
DJ Hamburgers substituted for Branson.

This episode debuted the new rules for RogueLike.

20
Matt Acevedo

Stella Chuu
Jessica Verdi
Ify Nwadiwe
Zac Eubank

Ify Nwadiwe
DJ Hamburgers substituted for Branson.

Kelly was on vacation this week.

21
Cameron Rice

Brendon Milove
Emily Jacobson
Jesse Klein
Jillian Dunn

Brendan Milove
Kelly was on vacation this week.
22
Kelly Nugent

Mark Fehrenbacher
Joe Held
Emily Gitelman
Ricky Zargaras

23
Kelly Nugent

Ify Nwadiwe
Chunk
Cucumber
Jessica Verdi

Chunk
This episode featured the debut of the RogueLike Championship Belt.

This episode had only one simulation.

24
Kelly Nugent

Xander Jeanneret
Chunk
Rachel Slott
Markeia McCarty

Markeia McCarty
25
Kelly Nugent

Christian Humes
Chad Fogland
Brendan Milove
Matt Acevedo

Brendan Milove
This episode featured the debut of Bacon Boi.
26
Kelly Nugent

Patrick Ehlers
Matt Acevedo
Kara Corvus
Ryan Mogge

Kara Corvus
The episode ended in a tie between Matt and Kara. Matt was disqualified by virtue of being an employee of Dungeon Inc.

Branson was on vacation this week.

This episode was the first to implement a 10-point bonus for players who completed a side quest.

27
Kelly Nugent

Lucas Eubank/Janel SantaCruz
Andy Campbell
Jessica Verdi
Ricky Mehigh

Ricky Mehigh
Lucas was replaced by Janel after the first simulation.
28
Bert Jennings

Dewie Sherwood
Ricky Mehigh
Chad Fogland

Dewie Sherwood
After the second simulation ended, there was a three-way tie. The winner was decided in a "sudden death" simulation.
29
Kelly Nugent

Omar Najam
Dael Kingsmill
David Butler
Brendan Milove

Brendan Milove
30
Cameron Rice

Brendan Milove
Malika Lim Eubank
Emily Rose Jacobson
Markeia McCarty

Markeia McCarty
Kelly was sick this week.
31
Kelly Nugent

Matt Acevedo
Colin J. Morris
Josh Jones
Abby Trott

Abby Trott
32
Kelly Nugent

Matt Acevedo
Brendan Milove
Abby Trott
Malika Lim Eubank

Malika Lim Eubank
33
Kelly Nugent

Matt Acevedo
Dewie Sherwood
Alex Walters
Jordan Pridgen

Alex Walters
This episode featured only one simulation.

Kelly allowed Alex to "donate" one of his lives to Matt after Matt had already been eliminated. Alex did so in order to complete a hidden agenda (to get two players to incorrectly guess his hidden agenda).

Kelly allowed Matt to remain at the table despite losing all three lives and being eliminated.
References
Edit
Work Consulted for Episode Synopses: http://hrpg.wikidot.com/roguelike