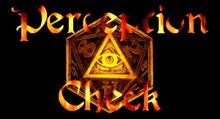 Perception Check (abbreviated to PC or PCDnD) is a comedy role-playing game show featuring both human players and puppets known as Felted Friends. The series premiered on HyperRPG on November 27, 2017.
Described as "90% improv and 10% D&D," each episode of Perception Check features the regular cast of (frequent) GM Ryan Keiser, Amber Reeder, Chunk, Cucumber, and a rotating guest player.
Prior to streaming on HyperRPG, Perception Check streamed on their own Twitch channel, and continue to broadcast campaigns and games independently of HyperRPG.
Episode Summaries
Edit
| Episode | Campaign | GM | Seat One | Seat Two | Seat Three | Seat Four |
| --- | --- | --- | --- | --- | --- | --- |
| 1 | | | | | | |
| 2 | | | | | | |
| 3 | | | | | | |
| 4 | | | | | | |
| 5 | | | | | | |
| 6 | | | | | | |
| 7 | | | | | | |
| 8 | | | | | | |
| 9 | | | | | | |
| 10 | | | | | | |
| 11 | | | | | | |
| 12 | | | | | | |
| 13 | | | | | | |
| 14 | | | | | | |
| 15 | | | | | | |
| 16 | | | | | | |
| 17 | | | | | | |
| 18 | | | | | | |
| 19 | | | | | | |
| 20 | | | | | | |
| 21 | | | | | | |
| 22 | | | | | | |
| 23 | | | | | | |
| 24 | | | | | | |
| 25 | | | | | | |
| 26 | | | | | | |
| 27 | | | | | | |
| 28 | | | | | | |
| 29 | | | | | | |
| 30 | | | | | | |
| 31 | | | | | | |
| 32 | | | | | | |
| 33 | | | | | | |
| 34 | | | | | | |